Duration
1 hr 30 min

i
Start & End Time
Various
Pick-Up & Drop-Off
Not available
Minimum Age
All ages
Start & End Location
Various

i
What's Included
Get up to $10 cash back per person when you book with us

Enjoy a fast, easy and flexible 1 or 2 day ferry ticket

Access some of the best harbour destinations with a convenient ferry timetable

Enjoy the flexibility to hop-on and hop-off as you like

Expert local guidance from onboard crew

Convenient start locations at Circular Quay or Darling Harbour

Visit Taronga Zoo, Shark Island, Watsons Bay and Manly

Indoor and outdoor leisure decks to enjoy

Free Wi-Fi
What to Expect
This hop on hop off Sydney Harbour ferry pass is the easiest way to explore Sydney, visiting famous harbour precincts on a single day - or two!
Do what the locals do and travel on the harbour highway, with this red rocket ferry pass criss-crossing the harbour throughout the day, travelling between famous harbour precincts - Circular Quay, Manly, Taronga Zoo, Shark Island and Watsons Bay.

Enjoy entertaining onboard harbour commentary and perhaps pick up some hints on how to make the most of your time in Sydney that only the locals know, or, enjoy the complimentary Wifi.
With a convenient start location from the tourist precincts of Circular Quay and Darling Harbour, this is an easily accessible, thoroughly enjoyable way to see Syndey.
Where we visit:
Regular services operate between Circular Quay, Manly, Watsons Bay, Shark Island, Darling Harbour and Taronga Zoo on weekends and Wednesday to Sunday during selected NSW school holidays.
Special timetables may operate on selected dates.
Departure info:
Choose a departure from Circular Quay Wharf 6 or Darling Harbour King Street Wharf 1 based on the Hop on Hop off timetable above to collect your boarding passes and daily timetable.
Timetable: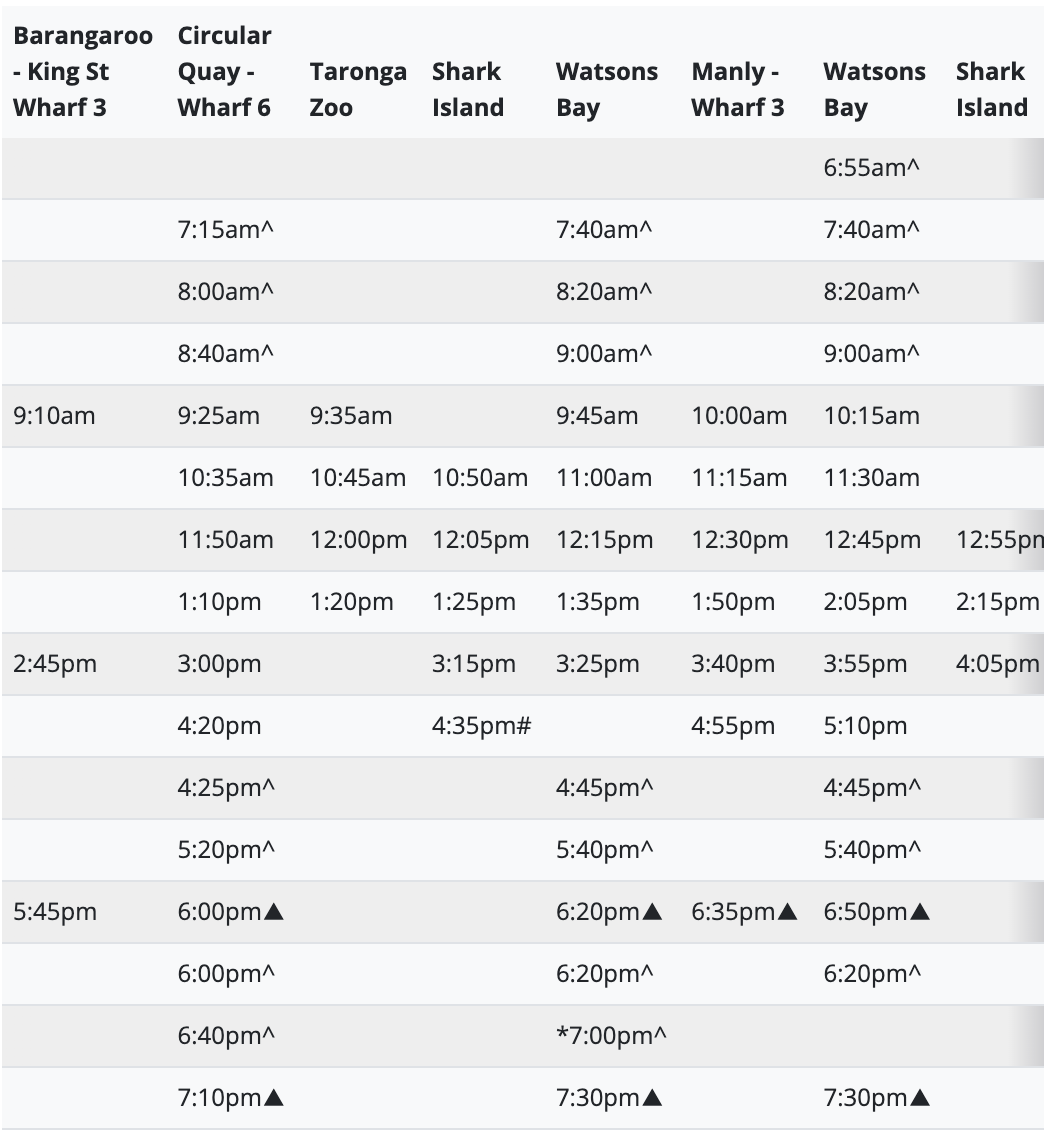 Wharf Check-in Offices:
Darling Harbour King Street Wharf 1

Circular Quay Wharf 6
Interested to see what else the city has on offer? Check out more great deals, HERE.
Frequently Asked Questions
A 1 day pass is valid for one calendar day.
A 2 day pass is valid for two consecutive calendar days.
Allow approximatly 1 hour 30 minutes for a round-trip circuit of Sydney Harbour.
The supplier's guests receive special rates at selected parking stations when you pre-book your car park online with Wilson Parking.
Remember to check with local authorities for special event road closures.
Approved assistance animals are allowed on ferry services as follows:
Assistance animals trained to assist passengers with a disability

Assistance animals in training

Guide dogs and hearing dogs with accreditation

Police and security dogs
When you travel with an assistance animal you need to ensure that:
You are responsible for the conduct, care, feeding and toileting of your animal

The animal must be under the control of the registered handler at all times

Your guide or hearing dog wears a harness or medallion of registration
Travelling with pets
Pets are allowed on ferry services with permission from crew prior to boarding.
When boarding public transport with a pet or other animal, please be aware that:
The animal must be restrained in a suitable box, basket, or other container at all times whilst onboard

The captain or crew may refuse to allow the animal if the service is reaching capacity

Animals should not travel in the enclosed ferry cabin areas, unless outdoor area is unavailable, and are not allowed on seats and must not obstruct passageways

Animals that are not clean, appear vicious or likely to annoy, threaten or inconvenience other customers will not be allowed

You should keep your animal away from other travelling animals to ensure the safety and comfort of other customers and pets
Reviews for Hop On Hop Off Sydney Harbour Ferry Pass - 1 or 2 Days
1 reviews
Total review count and overall rating based on Backpackerdeals and Travello reviews.
We'd love to hear about your experience! Share your feedback with us, and get rewarded!
Policies
Terms & Conditions:
Special itinerary applies during low season

Special prices, itineraries and conditions apply on selected special event dates including but not limited to 25, 26 & 31 Dec & 26 Jan & 14 Feb

Infants 0-4 years free of charge unless otherwise stated (no meal provided)

Aus Senior: Holders of a valid Australian & NZ Senior Card
Cancellation Policy:
Cancellation under 24 hours prior to sailing -100% fee applies

Special cancellation, commission, payment & amendment conditions apply to special event cruises and groups of 10 or more passengers.

Note: All rates are inclusive of Goods & Services Tax (GST) at the current legislated rate (July 2012) of 10% and may be subject to variation by the Government of the day.

Prices exclude any new legislated taxes or charges.

The supplier reserves the right to change the timetable, vessels and increase fares without prior notice, however fully paid guests will be protected at their booked rate, except for fuel surcharges, government taxes or other surcharges.
All customer cancellation & refund requests are also subject to our website's own refund conditions.
Flexible booking
Book your experience stress-free and know we're here to help.
Get Instant Confirmation